A taste of virtual success for Garbutt & Elliot's 2020 Yorkshire Food & Drink Awards!
The challenge
Now in their third year, the Garbutt + Elliott Yorkshire Food and Drink Business Awards faced a difficult challenge in 2020 when the awards presentation evening couldn't go ahead as planned as a result of Covid-19.
Garbutt + Elliott needed to create an alternative plan to celebrate the food and drink businesses that had been shortlisted and won the 2020 awards.
Our solution? Use marketing & social media to take the awards 'virtual'
Together with the Garbutt + Elliott team, we decided to take the 2020 awards 'virtual'.
Alongside the G+E partners, we embarked on an awards roadshow across Yorkshire, visiting many of the shortlisted and winning food and drink businesses. We were able to meet the people behind the businesses, take photos and shoot video footage – all with the additional challenge of social distancing!
This content was used to create news stories to market the awards for the regional media and a drum beat of coverage on social media for the businesses themselves and the awards in the build up to the winners being announced.
The winners were announced on the Garbutt + Elliott social channels and, working with journalists from across the region, we secured high quality coverage of the winners announcements including double pages in the Yorkshire Post, York Press  and Yorkshire Business Review. In addition, we secured an interview on the BBC Radio York Breakfast Show and coverage in many of the region's business and local newspapers.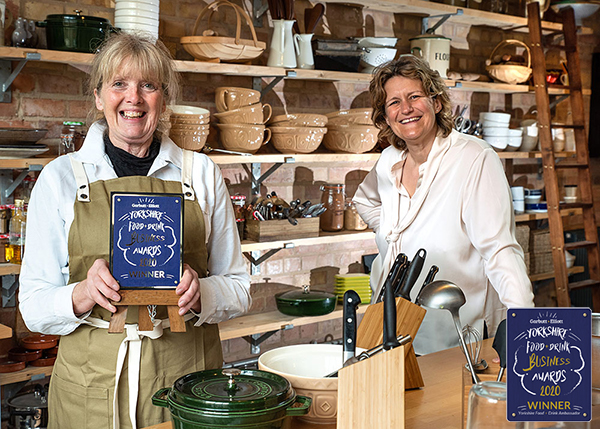 Impact
Taking the 2020 awards virtual meant the level of awareness and engagement with both Garbutt + Elliott and the food and drink businesses was higher than in previous years, and there was more media coverage. Many of the winners were also thrilled with the awards presentations taking place at their premises as this enabled them to showcase their products and give the Garbutt + Elliott team a 'behind the scenes' look at their businesses.
12
pieces of press coverage across regional publications
44.5k +
Twitter impressions
29k +
LinkedIn impressions
"We approached Intandem to help us create a different approach for our annual Food & Drink Awards. We wanted to create something unique because at the time a lot of award ceremonies were being cancelled or rescheduled due to the pandemic. The approach was an awards roadshow. Intandem created a carefully crafted PR and social media plan leading up to, during and after the presentations and this was executed exceptionally.
Regular updates and communications throughout the campaign enabled us to identify further media opportunities further raising the brand awareness of the awards and Garbutt + Elliott.  The result, we had the best coverage to date and gained maximum coverage along with some excellent feedback from the winners."
Ryan Webster • Marketing Manager • Garbutt + Elliott